2018 USBevX Exhibitor Kit
The USBevX Exhibitor Kit & Services Manual will help with all your exhibit planning needs including; ordering additional booth furniture rentals, electrical, lead retrieval, Wi-Fi Internet access, and much more to elevate your presence and increase your company's return on investment at USBevX 2018.
---
Exhibitor Services Manual - Exhibits Inc.
Ordering Deadline: February 15th
Orders after 02/15/2018 will incur additional charges.
Additional booth equipment and freight material handling services can be ordered directly through our convention vendor Exhibits, Incorporated. Exhibits Inc. will accommodate all exhibitors to the best of their ability to ensure a successful presentation. Please visit their web site for more event services information and important dates and deadlines.
Questions & Adjustments: All on-site questions and concerns regarding orders must be addressed at the Exhibits, Inc. service desk during exhibitor set-up times. Every effort will be made to resolve the issue. Credits or adjustments WILL NOT be made after the close of the show.
Please note that some rental items & labor requests are subject to cancellation fees.
Exhibitor Services Manual & Order Form
Exhibits, Inc.


800-418-2286 (Phone)
804-788-0186 (Fax)

We look forward to being of service to you and assure you of our full cooperation in all matters pertaining to this event. If you have any questions regarding the enclosed information or need assistance in planning, please contact us at:
All Exhibitor Booths Include:
Exhibitor Booth = 100 sq. ft minimum booth size (10' x 10')
Traditional Pipe & Drape with 8' backdrop and 3' sides

Colors: Burgundy / White Alternating

(1) 6' Table w/ White Skirting
(2) Chairs
(1) Small Garbage Can
(1) Company Sign
(6) Employee Booth Staff Passes per 10' x 10' space
Program Guide Directory Listing / Web Site Listing
Unlimited pre-registration guest passes – providing FREE admission to the USBevX exhibit hall for your best prospects and clients
---
A/V Rentals, Electrical Hookups, Wired Internet
Ordering Deadline: February 7th
Orders after 02/07/2018 will incur additional charges.
PSAV dedicates staff to handling most exhibitors' needs. We assist exhibitors in making equipment decisions in the most efficient and timely manner possible.
Resources and Services
Whether you need audiovisual, creative, digital, exhibitor, staging, network, projection, rigging, mobile app, or visual services, PSAV will help you create memorable experiences, helping share ideas that inspire change.
Unforgettable events happen when strategically placed soundscapes and captivating, illuminated sets are carefully planned and implemented. Our experts have studied the research and truly understand why the right AV has a great impact on message retention and know how to apply innovative event technologies for maximum engagement.
IF YOU EXPERIENCE AN ISSUE ON SITE PLEASE CONTACT PSAV AT 202-332-4178. NO REFUNDS WILL BE PROVIDED WITHOUT REPORTING THE ISSUE ONSITE TO A MANAGER.
PSAV Order Form
---
Setup & Break-Down Hours
SETUP
*Please note: ALL exhibits must be "Show Ready" by 8:00 pm on Wed. 2/21/18
Wednesday, February 21st
12:00 pm — 8:00 pm
BREAK-DOWN
*Please note: All outbound carriers MUST check in no later than 7:30pm!
Thursday, February 22nd
4:00 pm — 10:00 pm
---
Booth Staff Pre-Registration
Deadline: February 19th
All staff that will be in your booth must be pre-registered. Pre-registration is required to use the "Fast Track" check-in process on the day of the Expo, and will ensure that your staff receives an "Exhibitor" labeled name badge.
USBevX Exhibitors may register up to 6 people as "Booth Staff" per 10' x 10' booth space (i.e. If your booth is 10' x 20', you may register up to 12 people).
Please bring your printed tickets (or smartphone with ticket) to have your name badge printed. If you do not have a printed ticket with you, but have pre-registered, we can also find your name in the system.
---
Hotel Discount & Travel
Discount Deadline: January 29th
Discount Extended: February 12th
About Marriott Wardman Park
Washington, D.C. was specifically chosen as our host city not only because it's such a desirable destination and centrally located, but because of what the city represents, the pursuit of the American Dream.
Ideally located in Northwest DC's Woodley Park neighborhood, the Washington Marriott Wardman Park offers the best of both worlds. The hotel, which celebrates its 100th year in 2018, provides a quiet respite in the heart of the city with 16 acres of manicured gardens. However, their proximity to the Metro allows you to visit bustling downtown DC with all its attractions.
Just a few steps away, the trendy stores and global cuisine of Adams Morgan and the exhilarating nightlife of Dupont Circle are waiting to be discovered. Make yourself comfortable in our recently redesigned hotel rooms and suites, which feature deluxe bedding, high-speed internet and modern technology.
66 meeting rooms: 173,000 sq. ft. total meeting space
Mobil Travel Guide Stars: 3
AAA Diamonds: 3
Check-in: 4:00 PM; Check-out: 12:00 PM
Express Check-in, Express Check-out
On-site Restaurant / Room Service
Concierge services
Full business center
Package and parcel service; overnight delivery
The USBevX has negotiated a special rate of $199.00 with the Marriott Wardman Park, one of Washington, D.C.'s premier hotel properties.
February 21—22, 2018 at the Marriott Wardman Park in Washington, D.C.
You may reserve your room(s) online by using the Marriott reservation system:

Or Book by Phone: (202) 328-2000 and reference US Beverage Industry Expo 2018 (or USBEVX)
https://aws.passkey.com/event/49151007/owner/1786/home
Local Attractions
Arlington Cemetery
National Zoological Park
White House
National Cathedral
Smithsonian Institution
Kennedy Center for the Performing Arts
U.S. Capitol
U.S. Naval Observatory
National Mall (monuments, memorials)
US Botanic Garden
ALERT: USBevX has received reports that unauthorized companies, such as
Global Housing & Lodging Services – HLS Global
, or
Convention Housing Authority
may pose as the official housing vendors for the USBevX.
These companies are not affiliated with the USBevX.
For your own protection, please exercise caution when making hotel and travel arrangements with such entities. USBevX only guarantees hotel room rates, availability, benefits and protection for reservations made through the Washington Marriott Wardman Park directly. If you choose to book with a vendor not endorsed by USBevX please verify its credentials first and independently confirm that your reservations have been made and will be honored by directly contacting your chosen hotel.
---
Promotional Guest Invite Codes (Pre-Registration Only)
Codes Expire: February 16th
USBevX engages in an aggressive marketing plan that includes USPS mailers, email campaigns, print advertising, media partner exposure, association outreach and social media campaigns to ensure that the entire north coast wine industry is aware of and invited to USBevX.
Year after year, exhibitors that use promotional codes to invite their best customers and potential prospects, and who also actively promote their participation in the show, consistently see a higher return on their investment.
Each exhibiting company is provided with an individualized promotional invite code that allows your guests 30% off their ticket purchase. Encourage them to visit your booth, strengthen your current relationships, make new contacts, and maximize your sales. (Online Pre-Registration is required. Codes will not be honored at the door.)
Promotional Invite Codes are unique to each Exhibiting Company - click the button below to find your code.
AEB Biochemical
- Code:
AEB1213
All American Containers
- Code:
AAC1117
American Beer Equipment
- Code:
ABE1315
ARTon Products
- Code:
ART1320
Atlantic Seaboard Wine Association
- Code:
ASWA2018
Black Forest Container Systems, LLC
- Code:
BLA1304
Brick Packaging
- Code:
BRI1310
Collinwood Grape Company
- Code:
COL1226
Color Glass Container
- Code:
CGC1222
Conestoga Buildings
- Code:
CB1212
Convergence Consulting
- Code:
CC1332
Della Toffola USA Ltd
- Code:
DellaToffola
E. Beaver & Co.
- Code:
EBC1300
Expanding Horizons & Ama Waterways
- Code:
EHAW1205
First in Print
- Code:
FIP1319
FMD Architects
- Code:
FMD2018
G-M-I, Inc.
- Code:
GMI1331
Gino Pinto, Inc.
- Code:
GP1234
Grandstand Glassware and Apparel
- Code:
GGA1223
HORIBA Scientific
- Code:
HS1313
Iron Heart Canning Company
- Code:
IRO1324
Lafitte Cork & Capsule Inc.
- Code:
LCC1125
Lightning Labels
- Code:
LLAB1217
Live Oak Bank
- Code:
LIVEOAK
Logo Label Printing
- Code:
LLP1123
Lucky Clover Packaging
- Code:
LCP1312
Morton Buildings / designBUILD
- Code:
MB1322
National Winery Insurance
- Code:
NWI1306
NCR-RuPractical POS
- Code:
NCR1127
Niagara Label
- Code:
NL1115
North Coast Container Corp / Vitacask
- Code:
NCC1216
Oak Wise for Beverages
- Code:
OW1231
Overnight Labels, Inc.
- Code:
OL1328
Palmer Canning
- Code:
PAL1315
Prosurix, Inc.
- Code:
PRO1318
QuickLabel
- Code:
QL1111
Scott Laboratories
- Code:
ScottLabs
SeneGence International
- Code:
SEN1221
SKA Fabricating
- Code:
SKA1214
Slot Drain Systems
- Code:
SLO1225
SMB Machinery
- Code:
SMB1211
Spec Trellising
- Code:
SPE1224
StillDragon North America
- Code:
SD1109
Taylor Box Company
- Code:
TBC1317
Titan Barrel Works
- Code:
TBW1229
TLF Graphics
- Code:
TLF1325
TricorBraun WinePak
- Code:
TB1113
Veritas Artizen Chocolate, LLC
- Code:
VER1308
Western Square Industries
- Code:
WSI1219
Wild Goose Canning - Meheen Manufacturing
- Code:
WGC1215
Wine Business Institute at Sonoma State & VESTA
- Code:
WINEBIZ1314
---
Lead Retrieval & Tracking
Deadline for Ordering: February 21, 2018
We have found a great new lead retrieval system partner for USBevX. This platform ties directly to our online registration service to ensure that you have as much information as possible while scanning your leads. There are no additional pieces of hardware required other than an Android or iOS device.
How To Signup / Order Lead Retrieval
Download the Boomset Lead Retrieval app via the iTunes or Google Play stores on your device.
Select "Create a New Account", and enter your information. (If you've used Boomset Lead Retrieval before, you can login using those credentials.)
Login to Boomset using the account you just created.
Search for "USBevX", and select this year's event: "USBevX 2018 (US Wine & Beverage Industry Expo)"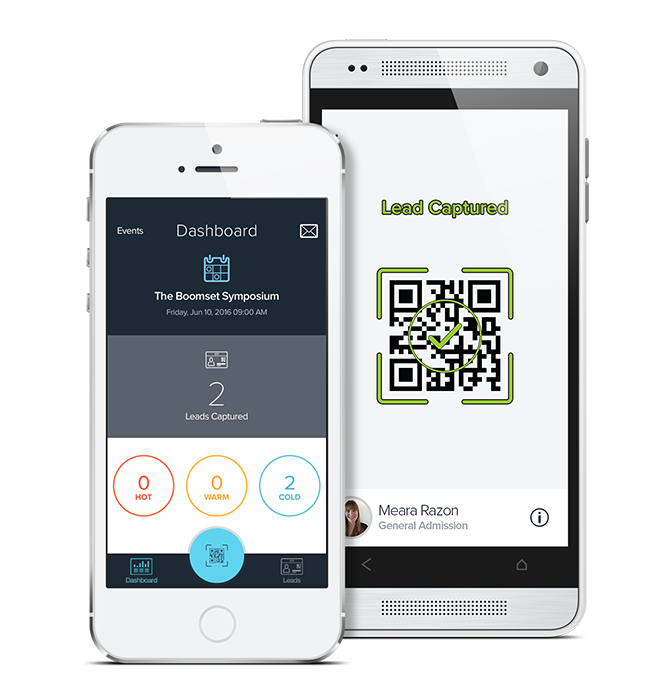 Additional Help / Setup Instructions can be found here:
License Price
$150 = special pricing for USBevX Exhibitors
Scan Badges
Quickly scan attendee name badges using your smartphone's camera.
Prioritize
Prioritize leads by marking them "Hot, Warm, or Cold." to make sure you follow up with important potential clients without delay after the event.
Take Notes
Take notes about conversations to make sure you remember important details during the follow-up process.
Search & Filter
Easily search leads by name, or filter them by date scanned, company name, or priority level.
One log-in / license can be used on multiple devices, and all scanned leads will be copied into the same lead list. If you need separate / multiple lead lists, additional licenses will need to be purchased. For example - You can create an account and purchase one license using your login email and password. Your colleagues can then download the app and use your same login email and password to access the platform and scan leads into the same list.
Please Note: USBevX does not provide every Exhibiting company with an attendee list after the show.
The only way to capture the information from the attendees at the show are by using this service. If you are using a generic QR code reader to scan Boomset generated QR codes, the information for that attendee will not show up. You must use Boomset's Lead Retrieval app to scan these codes.
---
USBevX Logo
---